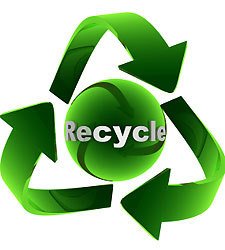 Reading about Jane Fonda's new workout DVD made me think about how you can recycle your old blog posts. Just as Jane has given a new twist to her original best selling exercise videos you can give a new twist to your old blog posts.
By the way this post came about from one of My 5 Top Tips For Getting Ideas For Blog Posts which I wrote a post about not long ago.
I am talking here about recycling your old blog posts by re-posting them on your blog. There are other ways of recycling old blog posts by posting them elsewhere but that will have to be a subject for another blog post.
Recycling my old blog posts is something I do from time to time on my detox blog without really thinking about it. After you have been blogging for some time using the same set of keywords it becomes hard to think of new material all the time.
The same things crop up at the same time each year in that niche. There are not a lot of searches for detox right now coming up to Christmas so I write more about healthy eating.  That doesn't change so I  write an article  about it from a different angle or in a different way from ones I have written in previous years.
Check your keywords
Of, course keywords can and do change overtime according to what's popular and it's worth checking them to see if you can come up with new long tail keywords ones to give you ideas for new posts. But if you haven't found any and you are stuck for an idea you can look back over your past posts to see if there is one you can recycle.
I take an old blog post and rewrite it so it is not exactly the same. I add new material to it, update it and polish it up generally.
If your posts are very old you can probably find ways to polish them up as your writing has probably improved.  Sometimes I cringe when I look back at articles I wrote a couple of years ago!
It pays to check your Google analytics to see what keywords have brought people to your blog. Look at the most popular blog posts. If you have a post that was popular why not bring it back to life?
On the other hand, if you have a great blog post that didn't get any comments or people haven't read you can recycle it by giving it a better title, rewriting the introduction and alter the paragraphs. You can maybe add an image, a video or some screen shots if it lends itself to that.
Give it new life
Depending on how long you have been blogging you have probably got posts on your blog from the early days when you weren't getting much traffic that have not been read and deserve to get another chance. I know I have posts on this blog that spent a lot of time writing from when I started it that probably have not been read.
Another idea I had for my detox blog which I haven't done yet is to make a list of some relevant content with links to them. I thought I could write a little introduction to each post so it is not just a list of links.
I am not saying you should recycle your old blog posts a lot but if you get stuck it's something you might want to consider. If you have any ideas to add please share them with my readers in the comment box.