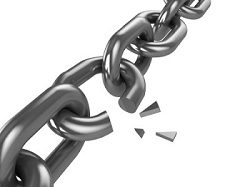 If you use CommentLuv Premium on your blog you will probably have seen the discussions about the bad or broken  links in the comments and their possible effect on your SEO.
Google scans your blog's comment section and some users have removed the plugin for fear that the broken links could damage their ranking.
There is some controversy about that but broken links can affect your blog load time and Google takes that into account in it's ranking algorithm.
A key part of SEO is making your site friendly to the spiders. If they can find their way around your site, they can index it, and then your site will get more page views.
Comments are never indexed by Google as WordPress prevents it. But if links are broken the spiders can't follow them.
Search engines also take into account the usability of a website and a bunch of broken links does not make it very user friendly. Besides, who likes a blog where links don't work? It makes it look uncared for.
Google won't necessarily penalize your site just because you have some broken links but Google's Webmaster Guidelines clearly states that you should check for broken links and correct HTML.
Broken Link Checkers
You can install a WordPress broken link checker plugin to check your blog for broken links but they are unable to check for broken links in comments if you have CommentLuv Premium plugin installed.
I heard that Andy Bailey, the creator of the plugin, was trying to solve the problem for his customers and I resisted uninstalling my plugin as I have heard that many bloggers who have done so have also lost a lot of traffic as a result.
Some were also uninstalling it as they were worried that if the comment section was DoFollow and they got some spam comments then the links would pass link juice to the spammy sites. Google might then think they were involved in spam sites.
This won't or should not happen if you have CommentLuv Premium which prevents spam and if you moderate your comments.
CommentLuv Link Cleaner Plugin
I had no idea how long it would take Andy to come up with the solution for the broken links but he's just released the CommentLuv Link Cleaner plugin.
It can scan every single one of your comments to see if the links are good or not. I've just installed it and it is simple to use and works a treat.
Here's a quick video demo Andy made about it.
I only had 5 bad links so I doubt that my blog was suffering. If you have an older blog with a lot of traffic and comments then you could have many more.
CommentLuv Premium Benefits
If you have not got CommentLuv Premium yet then you are missing out big time.
It rewards commenters by adding a link of their choice from one of their lastest blog posts with the comment and helps them to generate more targeted free traffic to their blogs.
It's worth getting to increase your traffic and encourages readers to share your content on Google +1, Twitter and Facebook.
It incorporates GASP (Growmap Anti-Spambot Plugin) which adds a checkbox to your comment form asking users to confirm that they are not a spammer. This helps to eliminate 99% of comments that spambots create.
If you aren't sure if it's for you then why not try it out?  Check out all it can do for you Here
Do you check your blog for broken links? How often do you check and what tools do you use?