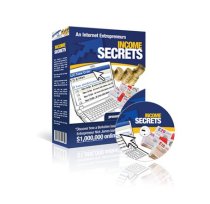 Nick James, one of my mentors,  has just launched "Incredible Income Secrets Of An Internet Millionaire" his latest innovation to help would be internet marketers make money online.
Nick, a UK based entrepreneur,  made his fortune in Direct Marketing before making the transition to internet marketing 8 years ago. He is an inspiration to would be entrepreneurs and internet marketers and  is known for his innovative ideas.
He regularly runs internet marketing workshops (some of which I have attended and already written about on this blog) for a growing band of online entrepreneurs as well as offering private coaching sessions.
I have been a member of Nick' s membership site and Forum for just over a year now and it's a great place to get your burning questions answered as well as a ton on information and videos about internet marketing and making money online.
So what is Income Secrets?
It's a multi media downloadable product where you will find real, proven and hard won information which enables Nick to bank well over $1,000,000 USD a year from the internet.
Here is what you get:
61 page Quick Start Guide to Internet Profits
A 60 minute Income Secrets video presentation full of riveting, money making content.
Details about a special 60 Day Free Trial Offer to the highly regarded, Nick James membership website.
A super quick guide that will  have you banking your first $100 online using the Income Secrets course. It's designed to get you off to a flying start.
Links and resources to other products and services Nick has developed to help you expand your new online business.
And the best part is, this business is not restricted to age, sex, creed, race or your location, this really does work the world over.
So if you are still struggling to make money online download Income Secrets right now. Just click on the link below to download the .zip file to your computer.