Hey Folks
I am just recovering from information overload after attending a making money on the internet Cracking the Code workshop held by Nick James at the Park Inn, Heathrow on Saturday.
Nick James, in case you don't already know, is an entrepreneur based in Berkshire, England. He made his fortune in Direct Marketing before making the transition to internet marketing for the past eight years.
Nick has set himself a challenge. He said people are always saying to him "Oh, it's all right for you Nick, you've got the money and a huge mailing list. How can we do that when we are starting from scratch?"
Nick pointed out that he did start from nothing but to prove a point he has challenged himself to make at least $1000 a month every month within 6 months with no product of his own, no list, no JV promotion and working no more than one hour a day.
Oh yes, I nearly forgot, he has allowed himself just £100 ($150 approx) to get started.
He will be giving us progress reports from time to time. I can't wait to see how he does. I can see a product being developed here I think! I will keep you posted on his results.
Driving Instructor starts his Online Business
It's always great to attend these events to learn what others are doing and how they are managing their businesses.
Nick introduced Martin Caswell, a driving instructor, who has put his vast knowledge and expertise to use by creating a series of driving DVD's in conjunction with a hypnotherapist.
Good idea for a Christmas present if you know any new drivers or someone with road rage.
Martin has also started a membership site for driving instructors who want to run their own driving schools. How's that for enterprise? This is a shining example of how you can turn your knowledge into an make money online business.
Continuity and Membership Sites
That brings me to the first speaker Neil Travers whom you probably know as part of the double act, The Two Neils.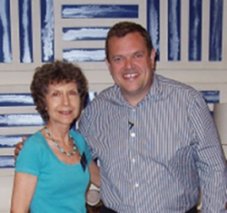 His business partner Neil Stafford was away on one of his many holidays abroad.That is what you can look forward to when you are making money on the internet!
Neil talked about continuity and membership sites. What a coincidence. Alex's latest webinar was about memberships sites. He has just launched his Internet Traffic Coaching membership site.
The two Neils started the junior soccer coach membership site in 2002 after Neil became a junior football coach by accident and long before membership sites became as popular as they are today.
Neil Stafford and Neil Travers are hugely successful Internet and Information Marketers in the UK with a wide range of businesses in niche markets diverse as Football, Horse Riding, Chinese Cooking, Training, Consulting and Gardening to name just a few!
Some of these eBooks came from stuff they found in the public domain. Just shows what can be done when you put your mind to it.
Neil's advice is to keep your head up and eyes wide open as opportunities are presenting themselves to you every single day. You've just got to learn to recognise them and act on them.
In a nutshell he says focus and take action. It's hard to believe but only 5% of people dreaming of making money on the internet ever take action.
Peter, who is usually at the back of the room filming Nick's workshops, spoke about social media and the importance of using it to brand yourself or your business. Peter's background is in radio and voice overs. He has the most amazing mesmerizing voice that you could listen to all day.
Peter has been a voice of Radio 1, Virgin Radio, XFM and Sky and if you are in the UK you will have no doubt heard him on BBC 1 and 2, introducing influential and important programmes such as Panorama.  It was hard to believe that he had to iron out a regional accent to get a job in radio
in the first place!
He has come up with a set of how to Twitter DVD presentations called Twitter with a Twist.  If you need a voice over for some PLR videos then Peter is your man.
David Frosdick WordPress Expert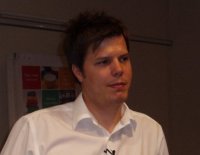 David, a freelance web developer and internet marketer, spoke about and demonstrated the new features of WordPress 3.0. It was good to find out about the new look inside WordPress 3.0 before I upgrade.
I have not upgraded yet as I do it through Fantastico on C-panel and they don't make it
available until any bugs have been ironed out.
David knows so much about WordPress that he has produced his own set of WordPress training DVD's.
Networking
It was good to talk to some of the others at the workshop to find out what they were doing and planning. It really pays to network at these events as you never know who you might meet that could help you in some way or JV with you at a later date.
I met Kerry who can help me with some CD reproduction and label design for a project I have on the back burner for a while and must get on with.
I don't go to many of these events but it was good to rub shoulders with a couple of the most successful UK internet marketers. I stood as close as possible hoping that some of their magic would rub off!
The event was well worth missing the Wimbledon women's final and the brilliant sunshine for while we were ensconced in an air con chilly windowless room in the depths of the Park Inn Hotel. I came back buzzing with a lot of ideas I hope to put into action very soon.  Focus and action!