Archive for Blogging
Well, this is my second blog post this week! My coach Marc Milburn's say's to post two or three times a week. There is no way I can manage 3 times a week so twice it will have to be.
When I first started this blog I only ever posted once a week. I simply did not have enough time to keep my Detox blog and my Natural Remedies Blog going and post on this blog more than once a week.
I did sometimes post twice a week but I used other people's newsletters or articles that they let me have provided I included a link to their site.
I got to wondering how much the frequency of blog posting matters so did a bit of research on it. It seems that there is no easy answer.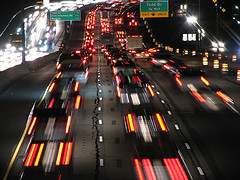 Well this week's mentoring has been about getting free traffic to our blogs.  The whole purpose of getting traffic is to get people to sign up to your lists so you can make money working online. There have been 5 Webinars over 5 consecutive evenings packed with the most amazing stuff ever. Talk about information overload. So much to do, I hardly know where to start.  There are many many ways of driving traffic to your blog but as I go oil rig hopping around other student's blogs it's clear that if you are blogging for website traffic you have to brand yourself to be a successful blogger.
Picture by Mazda6
Some of the students are already standing out from the crowd with the way they write and are getting a lot of comments on their posts because of it. I feel deflated. Why can't I write like that? My post seems so mundane by comparison. Will people be interested in what I have to say?
As I am visiting (or oil rig hopping as Alex calls it – a subject for a future post) other blogs to see what some of Alex Jeffreys other students have written I notice that some haven't got an About Page. It may be just that they just have not had the time yet and that they will add one soon.Alex has said just get your blog going and that is what many are doing.
But, I have come across other blogs that don't have an About Page. I don't know about you but I feel cheated. I'm nosey and if I like the blog and the blog posts I am curious about the person behind it.