Archive for free report
This morning I thought I would check through my free report and squeeze page funnel just to make sure it is up to date and in working order before I buy a solo ad to really test it out.
I have lost count of the number of times I have been through a squeeze page funnel only to find that some of the ads I clicked on the download page did not go anywhere. Often the links in the free report do not work either. This creates a bad impression.
One tip I learned from Marc about another way of getting subscribers to opt-in to my list was to create a "Free Training" page on my blog. The idea is to use it as another way to get people to my squeeze page for my free report lead magnet.
To do this I had to create a new page by going into Pages in my WordPress dashboard and creating a page with the title Free Training. This should have added another tab to the navigation bar at the top of my blog but it didn't!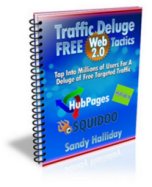 At long last I have written my own free report to help with my list building. Up until now I have been promoting other people's stuff to get sign ups but I had always intended to write my own.
The problem has always been what topic to choose. There are so many niches related to making money online but after thinking long and hard about it and doing a bit of lurking in the forums I decided that getting traffic is one of the main problems that many internet marketers face.