Archive for free traffic generation
I can hardly believe that another week has flashed past. This time last week I was in sunny Spain getting ready to return home after a wonderful 4 week break although my husband tells me I spent too much time on the laptop.
The truth is that I enjoy the making money online business. I wouldn't do it if I didn't. If I had the time I could spend hours at it!
It was quite a shock to the body to come back to the cold here after getting used to 20C+ sunny days in Spain.
Although I was unable to put in my minimum of 60 minutes a day trying to drive free traffic to my blog for two days last week I have been making up for it this week.
I just had an email from Dave Nicholson about a new product 30 Day Traffic Flow from John Thornhill and Dave Whitworth.
John is a well known internet marketer from the UK and has a good reputation for excellent products. I had not come across Dave Whitworth before but he apparently increased the traffic to his cycling blog by  87% in 30 days using this system of free traffic generation he devised.
I am always looking for ways to increase traffic to my sites so it was a no brainer to take a look. And, at a prelaunch price of only $10 I just had to buy it.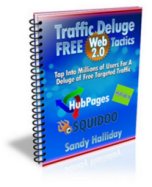 At long last I have written my own free report to help with my list building. Up until now I have been promoting other people's stuff to get sign ups but I had always intended to write my own.
The problem has always been what topic to choose. There are so many niches related to making money online but after thinking long and hard about it and doing a bit of lurking in the forums I decided that getting traffic is one of the main problems that many internet marketers face.