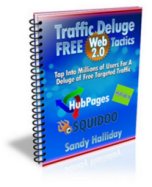 At long last I have written my own free report to help with my list building. Up until now I have been promoting other people's stuff to get sign ups but I had always intended to write my own.
The problem has always been what topic to choose. There are so many niches related to making money online but after thinking long and hard about it and doing a bit of lurking in the forums I decided that getting traffic is one of the main problems that many internet marketers face.
Continue reading Announcing "Traffic Deluge" – My New Free Report!