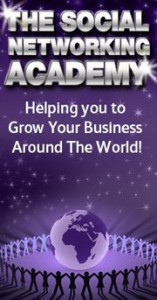 The Social Networking Academy is a membership site that has recently been launched by Jo Barnes to help you make money on the internet through Social Networking.  It is, or soon will be, the most comprehensive resource on the web today for all things to do with Social Networking. Or to put it in Jo's words,  "Your one stop shop for all things Social!"
Who is Jo Barnes?
I first came across Jo, affectionately known as the Facebook Queen, through Chris Farrell when she was doing free webinars about Facebook.
Jo is a fellow Brit and you can't but help to like her infectious enthusiasm, or her forthright, honest, no pretense, no nonsense but fun style of presentation. After watching her free videos I soon found myself snapping up her first product "2000 Fan in 30 days".
Not long after that she started doing free webinars about Social Networking which led up to the launch of the Social Networking Academy membership site. I was lucky enough to get in as a founder member. It was a no -brainer for me to join as soon as she launched it.
What is the Social Networking Academy?
Inside the membership area there are or soon will be a whole host of content packed, step-step training videos on everything to do with Social Networking. At the moment there are videos on Facebook, YouTube, Starting a Business in 21 days, Secrets of Success with expert interviews and the Power of Focus.
Coming soon are Twitter, Linked In, Mobile Marketing, SEO and social media management. blogs and social media, and knowing Jo probably plenty more!
Facebook
There are numerous excellent training videos on Facebook basics, Facebook Pages, Facebook Marketing and Monetization.
I like the way she has broken down the main topics into a number of short to the point videos that are easy to digest. I hate long videos don't you?
You also get some brand new software – a  fully customizable WordPress theme  – for adding iframes to your Facebook page
YouTube
In these videos Jo takes you through how to use YouTube to market your online business. Some of  the topics that are covered are YouTube basics, YouTube SEO, YouTube Channels, YouTube Analytics,  YouTube monetization, and of course YouTube & Facebook and more.
Coaching Calls & Webinars
Every two weeks there are live Coaching Calls to get all your questions answered. Every month Jo has also promised webinars on all aspects of Internet Marketing and interviews with many marketing and business experts. She is asking members who they want her to interview.
How much does it cost?
Jo has kept the price down that everyone can benefit from all the information that the site will eventually contain. There is plenty there already to keep you busy.
For only $4.95 you can take a look at all the information in the members area for 5 days. If you like what you see you can become a member for just $37 a month. In my opinion it's a steal.
Should you join?
If you want to learn all the Social Networking skills you need to make money online then I don't think you can do better than joining The Social Networking Academy. Not only can you try it for 5 days but there is also a  60 day money back guarantee so you have absolutely nothing to lose. Check it out for just $4.95 here:  The Social Networking Academy