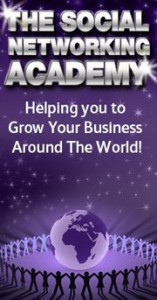 The Social Networking Academy is a membership site that has recently been launched by Jo Barnes to help you make money on the internet through Social Networking.  It is, or soon will be, the most comprehensive resource on the web today for all things to do with Social Networking. Or to put it in Jo's words,  "Your one stop shop for all things Social!"
Who is Jo Barnes?
I first came across Jo, affectionately known as the Facebook Queen, through Chris Farrell when she was doing free webinars about Facebook.
Jo is a fellow Brit and you can't but help to like her infectious enthusiasm, or her forthright, honest, no pretense, no nonsense but fun style of presentation. After watching her free videos I soon found myself snapping up her first product "2000 Fan in 30 days".
Not long after that she started doing free webinars about Social Networking which led up to the launch of the Social Networking Academy membership site. I was lucky enough to get in as a founder member. It was a no -brainer for me to join as soon as she launched it.