I first heard of ezArticleLink through an internet marketer I know. He suggested that I submit some articles to the site to build some backlinks to an article on my detox blog to help me get on page 1 of Google.
My traffic had dropped towards the end of last year and I wanted to get it back. I am sure you know that one of the best ways to get onto the first page of Google is to get a lot of good one way backlinks.
I didn't do anything about it at the time as I had other things on my to do list that took priority but when I saw a review of it on an internet marketing blog that Joy Healey, a nutritionist friend of mine writes, I took a bit more notice.
She discovered that one of her articles that she submitted to the system several months previously came up on the first page of Google when she searched for a fairly vague keyword phrase related to the article.
I also checked the Warrior Forum to see what people were saying about it. Several marketers said that they saw their sites move up in the search engines since they began to use the service.
So, I thought I would give it a try. I have only just submitted my first article so I can't tell you what it has done for my rankings yet but let me explain the system.
What is ezArticleLink?
ezArticleLink was created by Kenneth Koh who has many years experience of SEO,  is the brains behind LeadsLeap and has a variety of other SEO and List Building resources.  It's a an article directory but with a big difference.
The difference is that firstly you you have to create an article directory on your own domain. This is not at all difficult. All I had to do was create a new folder on my root domain and upload one file to it.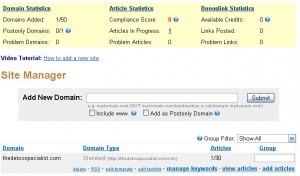 Secondly, I had to customise it so it looked like an article directory but once again this was easy to do. I just followed some video tutorials that Ken had created in the members area. It must be easy if I can do it!
Having set that up I had to submit it for approval which I got very quickly. They don't want any crappy looking article directories in their system.
Article spinning with a difference
All I had to do then was write my article using my keywords, spin it using their special free spinning system and submit it to the system. You can link it to any page on your website. Once again I had to wait for approval as they won't publish anything that does not read well.
If you have used some article spinning service out there you will know what I mean. Kenneth has developed a very clever spinner that will produce a high quality article spin. You can try it out free here:
Free Article Spinner
This can take some time, maybe 15 minutes,  but it is worth it for the end result. You can easily outsource this if you want. They will even have their own supply of outsourcers that will do it for you.
So what happens when your article is approved?
The ezArticleLink system will publish the different versions of the article to their article network that is growing all the time as people join the system. They then ping them and even build backlinks to those articles!
This means you get hundreds of one-way backlinks from different websites with just one article. You article can get read too by one of the more than one million visitors they get to the network a day. So there is chance that your links will be followed back to your web page.
There are 2 levels of membership.
The Silver level is free but you are only allowed 30 aticles per domain and your article will get posted on 100 – 200 of the directories in the system.
The Gold level currently costs $34 a month which is a special offer. The usual price is $49. If you are a gold member you are allowed unlimited articles and your articles get posted initially to 300 directories and then 0 – 5 a day so you get continuous backlinks to your site.
The great thing about this system is that your article gets published to the directories over a period of time and you can choose the speed if you want. This makes it look completely natural to Google and other search engines.
What are the drawbacks?
I have only seen one criticism of ezArticleLink and that is if, for any reason, you decide to remove any of  your directories from your domains then you will lose some of your backlinks.
The other possible one is that you will get articles posted on your directory that are not directly related to your domain. As the directory is entirely seperate it will not harm you at all.  You do have to provide a link to it somewhere on your home page.
I am not sure why you would want to do that but on the Warrior forum people were saying you might want to remove it if you were selling your site.
Will ezArticleLink help me get ranked in Google?
It has worked for others so I don't see why it won't for me but only time will tell. I will write another blog post about the results I am getting in a couple of months.
Click this link to find out more about ezArticleLink