Well, Facebook is certainly flavour of the month. Ever since I went to the Ultimate Facebook Seminar last month I seem to have been bombarded with product after product about making money online with Facebook. Everyone seems to be jumping on the bandwagon one way or another.
A flood of products have already made their way onto the market and I am sure there will be many more to come. If you like me want to learn more about how to properly set up a fan page and attract hoards of fans to make money on the internet which one do you choose?
I have bought a few inexpensive courses but they didn't really tell me what I wanted to know. I am not a complete newbie on facebook so I know the basics. I know how to create a fan page and I can even add an opt-in form to it. I have added a Facebook like plug in to my blog (not this one yet) but there is a lot more to getting raving fans and making money.
I have seen some fan pages that make you like the page before they let you have a free report or other gift so I started searching for the script to use. That was when I came across Brian Moran's Fan Page Secret Guide.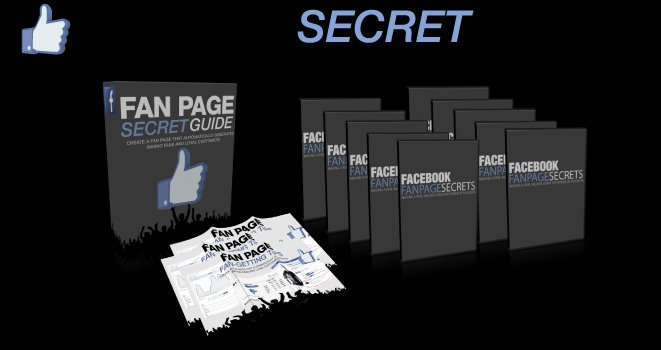 The Fan Page Secret Guide consists of 8 videos plus 4 bonus videos which Brian created based on his experiences marketing on Facebook. At first glance you might think that this was just a basics guide but inside Brian shows you how to really get more followers, leads, and customers.
Why should you listen to him? Well after spending some time trying to crack it Brian eventually discovered  the key to getting 10,000 fans for his baseball fan page. So this is not just some theoretical guide.
In Fan Page Secret Guide Brian walks you through setting up the perfect Facebook Fan Page that converts visitors into fans.
In the 8 Videos Brian explains:
Why you or your business needs to be on Facebook,
Why you should use fan pages
How to set up your fan page the right way
The right way to create your image as so many people get this wrong
The importance of getting your settings right.
How to make your landing page a winner
SEO.  How to get your Facebook page ranking in Google, Yahoo & Bing
Using the power of Facebook to discover what people want.
Upsells & Downsells
Fan page Graphics
The course sells at the moment for a very reasonable one off payment of $47 but there are a couple of  upsells and downsells. Isn't there always?
You can also get the Fan Page Graphics Pro package which he says supplies you with the highest converting cut & paste graphics that you can use for your Fan Page and/or website.
He claims that these graphics are what have separated his fan page from the competition. You don't need to know code, programming, web design, or graphics either.
Fan Page Scripts
There is also an upsell for some Fan Page scripts that you can use to do all sorts of magical things with your fan page that you see on the best fan pages.
Free Fan Page Generator
The downsell is for the Free Fan Generator. This is a series of 10 short videos that reveal  his best fan getting techniques for driving thousands of visitors to your fan page for free and turning them into raving fans.
Should you buy it?
After reading numerous eBooks and watching numerous videos about Facebook and Fan pages I can honestly say that this is the best guide I have come across so far.
The videos are fairly short and easy to go through. Just the way I like them. No fluff or waffling. Straight to the point.
If anything I think he goes too fast in some of them. If you haven't set up any Fan Pages yet then you might have to watch them closely a few times to see how he does everything.
With a 60 day no questions asked money back guarantee you haven't got anything to lose by having a look at them. And you get lifetime updates too which is a good thing as Facebook are always updating and changing things. Brian also says he will be adding more stuff to the members area soon.
Try it out here:   Fan Page Secret Guide