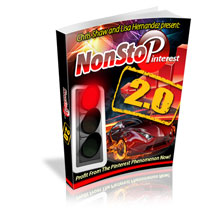 When I first heard about Pinterest I could not see what all the fuss was about. Pinning pictures! Who's got time for that? I had enough to do just trying to get traffic to my sites.
Then, I started hearing that Pinterest was the latest and greatest way to get traffic to affiliate products. I downloaded a few free ebooks and reports about marketing with Pinterest but I had more than enough projects on the go to even think about it.
Later I heard that Pinterest was clamping down on all these marketers who were spamming the site with their affiliate links but it was still good for getting traffic to your own sites.
I read in one of the books that you could get people on fiverr to create an account for you with ready made boards & pin. That sounded good to me and in the middle of last year I booked a fiverr gig that promised to create an account and pin at least 300 images related to my niche. All for just $5.00!
The seller got it all set up for me using a fictitious name. It looked great but because I had all these other projects on the go that took up mu time I never did anything with it.
Can you believe that it took me until the end of last year to actually get started with it? And that was all due to Non StoPinterest 2.0.
I can't remember who sent me the email about it but I have to thank him as that was what got me started. Now I'm addicted!
More importantly, I have had an increase in traffic to my detox blog of 60%, of which 33% is coming from Pinterest.
I've been trying to increase my traffic to it since it dropped substantially last year following the Google algorithm changes. I never knew getting traffic could be so much fun!
I credit my success to what I've learned through Non StoPinterest 2.0. I joined initially as a free member but soon decided to upgrade, firstly, as an Elite member and then to the Pinner Circle.
It's a full blown membership site on how to pin, what to pin and a lot of secrets of successful pinning!
In the Non StoPinterst Elite Members area there are a total of 11 short videos. 6 getting started videos and 5 for more advanced stuff.
There is already a lot of good stuff in the Pinner Circle member's area with more being added monthly.
So far the topics are Building your Brand, Affiliate Pinning (yes, there are ways to do it if you know how!) and Pinning for Profits.
I have learned a ton of cool tips through Non StoPinterst and the Facebook Group has been invaluable for getting my questions answered.
So, if you want a fun way to get more traffic to your site try Pinterest. But, don't go hog wild pinning before you know the secrets! Maximise your presence with Non StoPinterest.
Do you pin? Has it increased your traffic? Share your experiences with my readers in the comments.