One if the things I read recently about SEO and getting traffic to my blog was that I should submit my blog to Technorati. They call it "claiming" your blog which you have to do with a claim code that looks like this 3JFEU6AJR6JY.  Something I had completely overlooked until now.
Technorati, if you don't already know, is a search engine for searching blogs. It's a big and important blog directory. By adding your blog you can get another valuable backlink to your blog.  Technorati has a page rank of 8.
What's more, search engines such as Google and Bing evidently include data from Technorati to calculate their rankings.
In their own words  "Technorati Authority measures a site's standing & influence in the blogosphere."
I also read that your blog had to already rank in Google before you can submit it but I can't see that it says that anywhere on Technorati's site. Both my blogs are ranked in Google so that was not going to be a problem anyway.
In fact, with the recent Google Rank update my Detox Blog now has a Google page rank of 3. It had been PR 2 for a long time so I was really pleased with that. This blog is now PR 2. It was only recently that I realized that it had a PR 1.
How To Claim Your Blog

To claim your blog on Technorati you have to first sign up and create an account. You can then create your profile by adding your photo and your bio.  Another place to get noticed!  My last blog post was about why you should get your  avatar out there to get peoples attention.
Once you have done that you can start the process of claiming your blog. You enter your blog URL in the Start a Blog Claim field.

Then you fill in the rest of your details : Blog Title, the URL of your blog feed, the description of your blog, the category, and tags. The tags are very important as Technorati will use these for ranking your blog on their site which is not the same a Google's page rank.
Blog Feed
It's important to get the blog feed URL right. When I gave my RSS feed URL they could not find my blog and I got an email from them telling me this.
I found I had a FeedBurner address so I used this the second time and that worked.
When you submit your information they will check to see that they can find your blog and a thumbnail of your site will appear. Then you wait for an email that contains your Claim Code, a 12 digit alphanumeric code.
You have to place this code in a blog post. When you have done that you can go back to your Technorati Account and click on claim your blog.
This might sound a bit of a weird way of doing things but Technorati say this is the best way they have found of verifying that the blog belongs to you.
Technorati will check your blog feed and search for the code in the post body. They suggest that you put it at the beginning of your post but with my detox blog I put the code at the end of my post as I had not seen that instruction which was in FAQs.
The reason for this is that because they rely on your blog feed to find the claim code and many feeds do not include the full post, so putting it at the start of a post ensures it gets into your feed.
Fortunately, they found my claim code at the end of my post and my claim was successful. Once that happens you can remove the code.
I then got an email saying this:
"Congratulations, your claim is now complete! Please allow 24 to 48 hours for Authority and recent posts to begin showing for your site now that it has been successfully claimed. Once they are there, we will update your site's Authority once per day."
Now I am going through the process to claim this blog. You may have already noticed that I have put my claim code at the beginning of the post. Once this is published I will go back to my account and claim my blog.  It might sound a bit involved but it's quite simple really.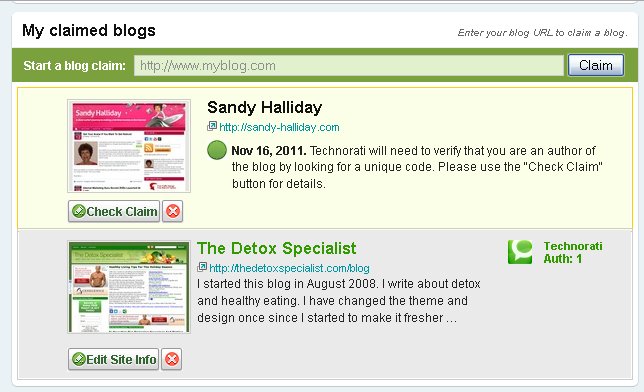 Remember, It's well worth doing to get a quality backlink and  it can also bring some very targeted traffic to your site. That's what you need if you want to make money on the web. Have you claimed your blog yet?