I installed the Free WordPress Pretty Link Plugin  on Marc's Milburn's advice  while ago when I revamped my blog but have to confess I had forgotten all about it until I saw it mentioned recently. ( Yes, I know, it's those silver surfer grey cells! ).
Pretty Link is a URL shortener and tracker but with a difference.
With Pretty Link you can use your own domain to shorten the URL. Look at these links and you will see what I mean.
If I shorten a link to one of my blog posts with tiny.cc I get this:
http://tiny.cc/3f64w
Or if I shorten it on scrnch.me   I get this:
http://scrnch.me/nwvsi
Most free options don't allow you to customize your link like this affiliate link I did on /cli.gs/  which is, I think, is an improvement on the others.
http://cli.gs/BacklinksAvalanche
With Pretty Links you can get a shortened link that looks like this:
http://sandy-halliday.com/BackinksAvalanche
I think that's a even greater improvement don't you? It's great for branding too as it is a reminder of your domain name.
As you can see you can also mask affiliate links. When I place an affiliate link in an email to send to my list in Aweber I can hide it to a certain extent in the HTML version by linking it to text of my choice.
It looks fine until my subscriber hovers over it and then the full affiliate URL shows up.
And, if you are using affiliate links on your blog, when your reader hovers over the link it shows the full affiliate URL at the bottom of the screen.
It's much better to mask it entirely by using Pretty Link.
I thought at first it wasn't going to work in Aweber because when I tried to save the email I got a message saying it was an invalid link . Sometimes it is just taking a long time to load.
I clicked ignore and sent myself a test email. It worked!
As I mentioned, you can track your links too so you can measure the effectiveness of an email campaign or wherever you place the link.
You can track the email links in Aweber too but you end up with really ugly long links in your emails.
With Pretty Links you can track the number of hits you get for each link and the number of unique hits. It give you a detailed report of where the hit came from too.
You can even post your Pretty Links to Twitter straight from your WordPress admin area.
The link will never disappear either unless you lose your domain. With some of the online URL shorteners the link can stop working after a few days.
When you create the link you can add a description of it too as a reminder of where you used it or what it was for. make it a dofollow or nofollow link and a temporary or permanent redirect.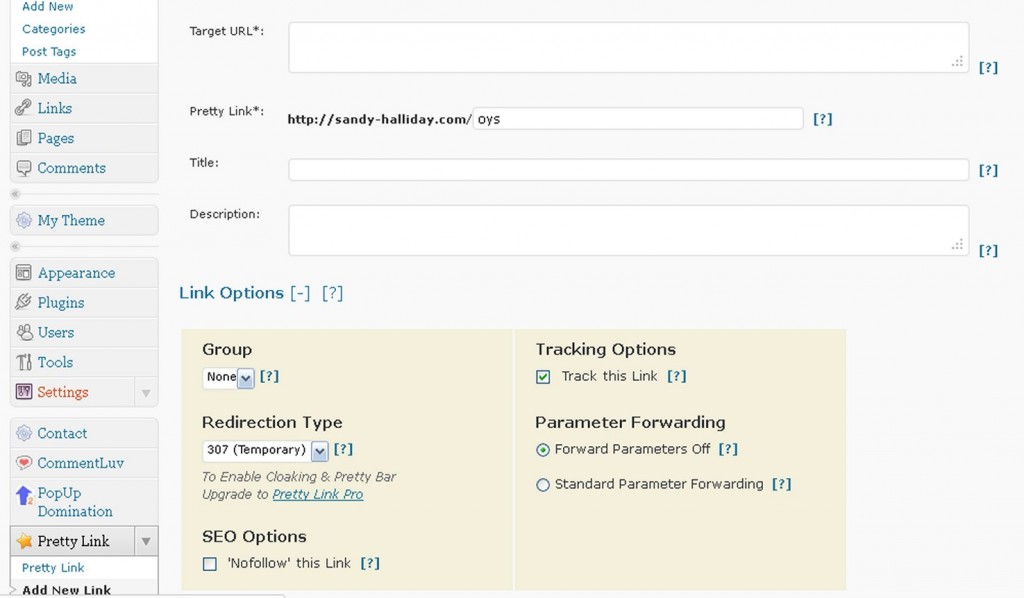 I think the Pretty Link Plugin has a lot going for it.  There is a pro version too which has even more features but I am going to try this out for a while.
Which URL shortener do you use and why?