I noticed that when I comment on some blogs I sometimes get an email message a few days later thanking me for it. I thought this was a really nice touch so started to investigate how I could do it too. According to several internet marketers I asked, the best WordPress plugin for this is the Thank Me Later Plugin.
The plugin is completely free from the WordPress Plugin Directory and works on WordPress versions 3.1 or higher. So, I thought I would give it a go. After all, what have I got to lose? It's another chance to keep my name out there.
The Thank Me Later plugin automatically sends out an email to the visitors who leave a comment on your blog. It can act as a reminder that they left a comment on your blog and prompt them to return.
How many times have you completely forgotten that you left a comment on a blog? I do it all the time and I find it good to get an email from the blogger to remind me so I can return to the blog to see their latest post or if they have replied (although there is another plugin you can use for this).
You can send them links to other articles you have written on your blog or elsewhere. I want to set mine up with a link to a free gift but I haven't got one ready yet. I would draw the line at sending out a sales pitch like I have seen some marketers do.
Customization
The Thank Me Later plugin is highly customizable. Once you install it you just go to the bottom of the settings menu to find all the plugin settings. You can use the default settings or change them to suit yourself.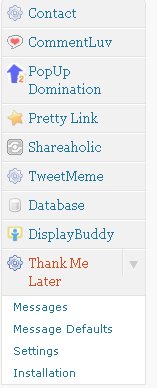 Firstly, you can and should change the default message that is sent out to your commenter.  It's best to word it to suit the way you speak to people or how you write your emails. Their comment is automatically added to the bottom of your message.
Secondly, you can choose how long after your visitor makes his comment to have the message sent out. It can be set to hours or days.  You might want to leave it for a few days so you have a chance to reply to the comment.

Thirdly, you can choose how many times your message gets send out. It could get a bit annoying for frequent commenters if they keep on receiving the same message. But, you can set it for once only or have a number of different messages set up so they don't get the same one.
Test it
Once you have it all set up the way you want it you can send a message to yourself so you can see what it looks like.  I found that the text did not come out exactly as I wrote it in the message box so I had to make a few adjustments.
Is it Spam?
Some marketers have said that messages sent this way could be viewed as spam. Well that is a valid point and I have found that several messages I had from bloggers after I left a comment did go into my junk folder. This is a risk I will have to take. I have a 50/50 chance of them getting it.
There is an opt-out setting you can choose that allows your users to opt out of receiving these messages and it can be also be displayed under the comment box if you want.
If you use the Thank Me Later plugin correctly I think it can be a very good tool engage your commenters and get them to come back to your blog and another chance to keep your name out there for your personal branding.