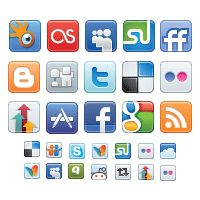 Daniel Thorley is an young entrepreneur who's been there, done it and got the T shirt as they say. He is passionate about helping other aspiring internet marketers to grow their businesses so they can make money on the internet.
Daniel discovered that building relationships is the key ingredient to getting traffic to  your websites and buying products or services. One way of doing this is through social bookmarking. Here is his excellent article about how to do it.
A social bookmark submission is a great way to increase your business and get people interested in what you have to offer. Communities like Delicious, Digg, and StumbleUpon are teeming with people who are just waiting to find the latest and greatest content and share it with the internet world.
Social bookmarking is exactly what it sounds like, and can be a great way to promote your business. If you submit to these sites, people can rate and vote on your content and help it get to the top of the list so that you get more visibility in the world of social networking and online content.
Advertising isn't what it used to be. A social bookmark submission will take you much further than any other type of advertising today if you use it correctly. It can be time consuming and difficult to take the time to submit yourself to social bookmarking websites, but it will give you many benefits that you can appreciate.
It will create backlinks, generate traffic, and give you the boost that you need in the social internet world. In order to be effective, here are some tips to keep in mind with your social bookmark submission:
Always make sure that you are submitting interesting, informative material. Don't just bookmark something for the sake of having a bookmark. Be sure that it is something that people will actual benefit from for the best results.
Always submit unique content. Too often, sites send duplicate content submissions in and that just makes you look like a copycat or like you are behind the times. It can be more trouble than good in most cases.
Submit content that isn't just yours. Self promotion is NOT the goal on these sites and you can get banned for constantly submitting your own work. Find other useful, interesting links to submit and build your reputation from that.
Make friends and connections. The more people you know, the more traffic you're going to generate. If you network, you will be able to get better results from social bookmarking.
If you keep these things in mind while doing your social bookmark submission, you will easily be able to get the best results for your efforts every single time. This is a unique tool that your business can really benefit from and it is something that you need to take seriously so that you can have success.
Daniel J Thorley has put together a report on search engine optimization that will help you solve the problem of traffic generation forever. To download it instantly visit http://www.businessfromthekitchentable.com
You can also download here his excellent Getting Richer Every Day eBook which includes some great tips about branding yourself, social networking, blogging, video and podcasting and news releases and much more.
Click here to Download Now.