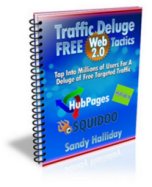 At long last I have written my own free report to help with my list building. Up until now I have been promoting other people's stuff to get sign ups but I had always intended to write my own.
The problem has always been what topic to choose. There are so many niches related to making money online but after thinking long and hard about it and doing a bit of lurking in the forums I decided that getting traffic is one of the main problems that many internet marketers face.
When you are just starting out there are so many little expenses that soon add up that the majority of people don't want to fork out any money on getting traffic so I decided to write about free traffic generation. A very competitive niche, I know!
Web 2.0 has changed the way that internet marketers get free traffic now so it was an easy decision to write a report that included some of the best free Web 2.0 techniques I know of.
Squeeze page
Writing the report was one thing but deciding on the layout for the squeeze page was another. You hear it said so often that your optin box should be above the fold yet some of the best converting squeeze pages have optin boxes further down the page.
It all boils down to testing, testing and testing. I have started with a very simple page. Just a headline, a sub-headline, an image and the opt in box. I had a simple template that I used for this.
I could split test one with added bullet points and even my picture at the bottom to give it a more personal touch.
I have used my own confirm page and thank you page to give me a chance to add some bonuses for my subscribers. I always like that when I sign up to lists. I have found some useful products and memberships that way.
So it remains to be seen how well my squeeze page converts and how my subscribers like my free report. I am open to all suggestions. I would value your feedback. You can get my "Traffic Deluge – Free Web 2.0 Tactics" report by entering your name and primary email address in the form at the top right of this blog or go to my squeeze page.