Have you heard of content curation? Although it's been around for some time content curation seems to be the latest buzz word in blogging circles.
I have only just heard the term and became curious about it as it is a way to get free traffic to your blog or website.
To put it simply, curated content is when you take other people's information, publish it on your site, provide a link to it, and add your own introduction, comments and summary.
The term originated from the word curator. "A curator (from Latin: cura meaning "care") is a manager or overseer. Traditionally, a curator or keeper of a cultural heritage institution (e.g., gallery, museum, library or archive) is a content specialist responsible for an institution's collect ions and involved with the interpretation of heritage material"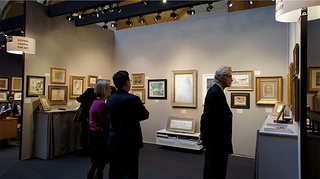 Picture by Monica Arellano-Ongpin
For our online purposes Curata puts it like this " Content curation is helping people make sense of all the information on a particular topic. In simplest terms, content curation is:
finding the content your audience needs
organizing and contextualizing it so it's helpful
and sharing it so it's accessible."
Isn't it duplicate content?
Well no, not really if you do it right.
The Huffington Post is one example of curated content.  The staff sift through articles on top news stories, choose the best ones, write a catchy headline and a bit of blurb around them citing the original articles and inclue a link back to the original source somewhere in the text.
The Drudge Report and Perez Hilton are other sites that use curated content almost exclusively.
Content curation is taking snippets of good and fresh content from an authority site, adding your own thoughts and opinions to it and linking back to the original source.
We all know that Google likes fresh and original content. Providing it on a regular basis can be a bit of a challenge but curating content is changing that for a lot of bloggers in 2012.
A lot of sites that were relying on what Google has termed artificial or unatural backlinking for their free traffic suddenly found they had lost most of it when Google announced it's Panda algorithm changes.
Google loves curated sites.
Your site can contain pages with duplicate content, but as long as the pages contain enough unique content Google is happy. Until they change the rules again!
Now, with content curation you can attract traffic, increase your credibility and become an authority in your niche.
Isn't It Illegal?
A lot has already been asked and written about the legality of it. As long as you cite the original source and provide a link back to that source you should be fine. You are not ripping off an entire article or post from a site.
The idea is to use just "snippets" of information. That information could be in the form of short exerpts or quotes from articles, videos or images.
According to the folk over at Seomoz there are five kinds of Content Curation types:
1.  Aggregation, which consists in curating the most relevant content about a topic into one single location. This is the most common way of curating content, and it is at the base of the majority of the content curation services actually present online;
2.   Distillation, which purpose is to distill the overall noise about a topic to its most important and relevant concept. The best cases of social content curation can be catalogued into this definition;
3.   Elevation, when curators draft a more general trend or insight from a mass of daily musings;
4. Mashups, or to merge different content about a topic creating a new original point of view of the same;
5. Chronology, which could be defined as historiographical content curation. Usually it consists in presenting a timeline of curated information to show the evolution of a particular topic.
Is it Auto-blogging?
Content curating has been likened to auto-blogging but it is quite different. Blog content curation is about finding, gathering, and presenting the best possible content that surrounds a specific subject matter and posting it on your site along with your opinions.
Auto-blogging uses a plugin that grabs content from other sites and publishes it automatiaclly. It doesn't generate unique content.
When you curate content you make it unique with your catchy headline, introduction and summary.
Naturally, tools have been developed to help make the job of content curation easier.
I have not used any of these myself yet but the ones I see being recommended are zemanta and curasoft.
Zemanta is an online tool that suggests related content and pictures as you write your post.
Curasoft is a piece of software that allows content marketers to create a lot more content around a lot more keywords and create pages which rank high in the search engines.
There is a free version so you can try it out first although it does not have all the bells and whistles that the pro version has.
Have you tried any content curation or used any content curation tools? If so why not share your experiences with my readers in the comment box?